Info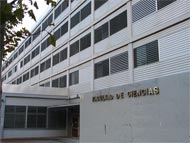 Ubicación
Location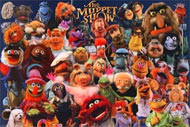 Miembros del grupo de investigación
Research Staff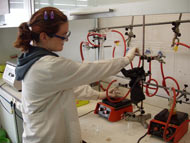 Líneas de Investigación
Research Lines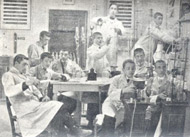 Historial del Grupo
Group History
Noticias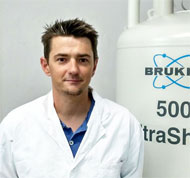 El Dr. Miguel Baya participa
en la patente de un procedimiento
de generación eficiente, almacenamiento y transporte seguro de hidrógeno.
Notas de prensa: La Vanguardia, Heraldo de Aragón, El Periódico de Aragón

---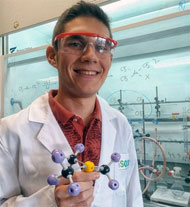 Nuestro artículo (CF3)3Au as a Highly
Acidic Organogold(III) Fragment
ha sido calificado como "Hot paper" en la revista
"Chemistry - A European Journal".
(En la foto el investigador Alberto Pérez)

---

Horizon 2020: Technology around photoluminescent compounds


.
Grupo de Investigación
de Química Inorgánica
y de los Compuestos Organometálicos (E17_17R)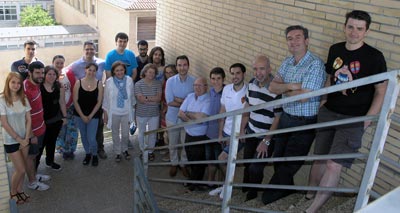 Miembros del grupo (junio 2016)
Members of the group (June 2016)
---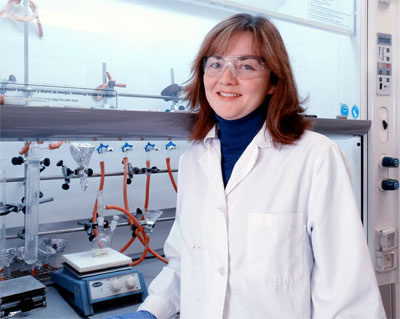 La Dra. Sara Fuertes participa en el diseño de un compuesto vapocrómico que presenta respuestas fotofísicas al contacto con agua y metanol y que podría utilizarse como sensor en procesos industriales o en materiales de recubrimiento inteligente.
El trabajo ha sido publicado en la revista científica
Nature Communications, una de las más importantes
de acceso libre a nivel mundial.
---
Nuestro artículo Gold(II) Trihalide Complexes
from Organogold(III) Precursors ha sido calificado como "Hot paper" en la revista "Chemistry - A European Journal".
Con esta distinción se reconoce su importancia dentro de un campo de investigación que se considera "de gran interés y rápido desarrollo". (En la foto los investigadores
Alberto Pérez, Miguel Baya y Jesús Orduna)
Publicaciones/Publications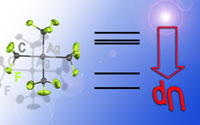 Homoleptic Trifluoromethyl
Derivatives of Ag(I) and Ag(III)
Chem. Eur. J. 2018, Accepted article

---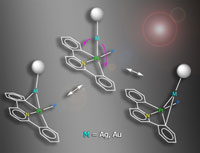 Pt-M complexes (M = Ag, Au) as models for intermediates in transmetalation processes
Chem. Eur. J. 2018, Accepted article

---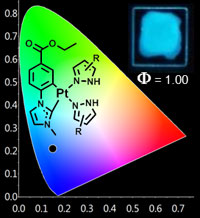 The Use of Cyclometalated NHCs and Pyrazoles for the Developement of Fully Efficient Blue Pt(II) Emitters and Pt/Ag Clusters
Chem. Eur. J. 2018, 24, 9377-9384

---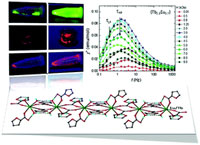 Heteronuclear {TbxEu1-x} furoate 1D polymers presenting luminescent properties and SMM behavior
J. Mater. Chem. C 2018, 6, 5286-5299

---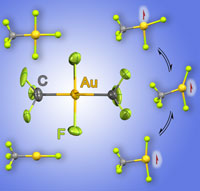 An Organogold(III) Difluoride
with trans Arrangement
Angew. Chem. Int. Ed. 2018, Accepted article

---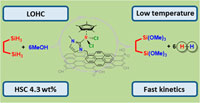 High Production of Hydrogen on Demand from Silanes Catalyzed by Iridium Complexes as a Versatile Hydrogen Storage System
ACS Catal. 2018, 8, 2558-2566

---

Gold(II) Trihalide Complexes
from Organogold(III) Precursors
Chem. Eur. J. 2018, 24, 1514-1517

---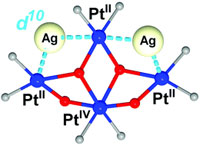 A route to small clusters: a twisted
half-hexagram-shaped M4(OH)4 cluster
and its capacity for hosting closed-shell metals
Chem. Commun. 2017, 53, 13121-13124


~ Más - More ~