Noticias/News


Our paper Pt-M complexes (M = Ag, Au) as models for intermediates in transmetalation processes received the qualification of "Hot Paper" in Chemistry, A European Journal .According to the evaluation of referees the results reported in the article are of great significance. Less than 20% of our manuscripts receive such a positive review.
Press releases: ISQCH, Heraldo de Aragón.
The paper has also been highlighted in Chemistry Views, a comprehensive free-to-view website that offers news, commentary, opinion, and additional feature material from leading authors.

---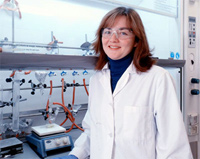 La Dra. Sara Fuertes participa en el diseño de un compuesto vapocrómico que presenta respuestas fotofísicas al contacto con agua y metanol y que podría utilizarse como sensor en procesos industriales o en materiales de recubrimiento inteligente.
El trabajo ha sido publicado en la revista científica Nature Communications, una de las más importantes de acceso libre a nivel mundial.

---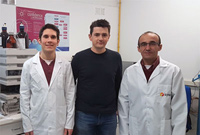 Nuestro artículo Gold(II) Trihalide Complexes from Organogold(III) Precursors ha sido calificado como "Hot paper" en la revista "Chemistry - A European Journal". Con esta distinción se reconoce su importancia dentro de un campo de investigación que se considera "de gran interés y rápido desarrollo".
(En la foto los investigadores
Alberto Pérez, Miguel Baya y Jesús Orduna)


~ Anteriores - Previous ~
Info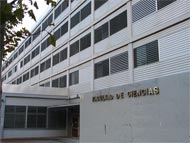 Ubicación
Location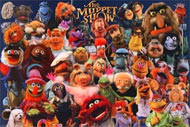 Miembros del grupo de investigación
Research Staff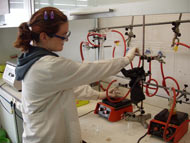 Líneas de Investigación
Research Lines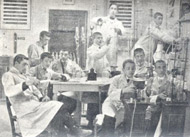 Historial del Grupo
Group History
Publicaciones/Publications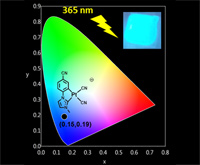 New NHC cycloplatinated compounds. Significance of the cyclometalated group
on the electronic and emitting properties
of bis-cyanide compounds
J. Organomet. Chem. 2019, Accepted Manuscript

---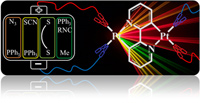 Double rollover cycloplatinated(II) skeleton: a versatile platform for tuning emission by chelating and non-chelating ancillary ligand systems
Dalton Trans. 2019, Accepted Manuscript

---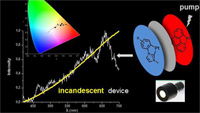 Highly Efficient Platinum-Based Emitters
for Warm White Light Emitting Diodes
J. Mat. Chem. C 2019, Accepted Manuscript

---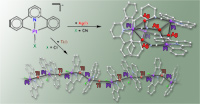 New PtM (M = Ag, Tl) complexes based on anionic cyclometalated Pt(II) complexes
Dalton Trans. 2019, 48, 3270-3283

---


Platinum-mediated monohydration of SO2
Dalton Trans. 2018, 47, 16846-16849

---

A Cyclometalated N-Heterocyclic Carbene:
The Wings of The First Pt2(II,II) Butterfly
oxidized by CHI3
Chem. Eur. J. 2018, 24, 18743-18748

---


Iridium complexes catalysed the selective dehydrogenation of glucose to gluconic acid
in water
Green. Chem. 2018, 20, 4094-4101

---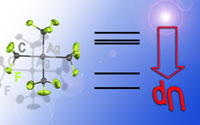 Homoleptic Trifluoromethyl
Derivatives of Ag(I) and Ag(III)
Chem. Eur. J. 2018, 24, 13098-13101

---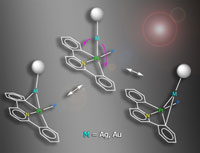 Pt-M complexes (M = Ag, Au) as models for intermediates in transmetalation processes
Chem. Eur. J. 2018, 24, 13879-13889


~ Más - More ~